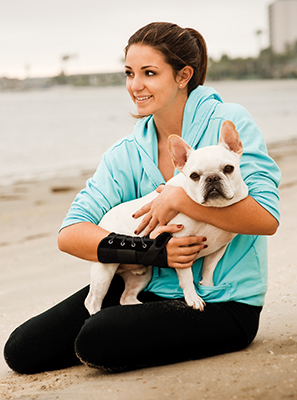 When your doctor prescribes a brace or support, the certified orthotists at Komfort & Kare are here to help guide you through the process. Depending on your diagnosis/condition,  may need a specific solution for your functional needs.
While we offer a wide selection of off-the-shelf orthotic devices, we're also able to provide custom-made orthotics for your specific needs. We construct 90% of our custom orthotic devices in our in-house laboratory and easily outsource the rest, and we can often turn around your custom orthotic device within one week.
Our South Jersey facility offers a wide range of high quality custom made orthotics, for both adult and pediatric patients, including:
Upper Extremity Orthotics. When you need to keep a joint properly aligned, prevent painful muscle contracture, or control your range of motion, we can find the best solution for you.
Lower Extremity Orthotics. For stabilizing, immobilizing and supporting a lower extremity or specific joints, we offer a wide selection of orthotics. We'll review your doctor's prescription, discuss your day-to-day activities and goals, and fit you with the appropriate device.
Back and Neck Braces. We can help fit you comfortably in a brace to stabilize and support your back or neck, to help you easily heal from an injury or provide relief from a chronic condition such as arthritis.
Footwear and Insoles. Orthotic insoles are medical devices, unlike over-the-counter insoles. Your doctor or podiatrist might prescribe special footwear or orthotic insoles if you have diabetes, plantar fasciitis or arthritis. We can fit you with the custom orthotic you need to correct and support biomechanical foot issues. We also custom fabricate diabetic foot orthotics.
Whatever your need for immobilization, stabilization, or support reach out to us today for an appointment. We'll customize and fit your equipment, and help provide the protection and support you need.