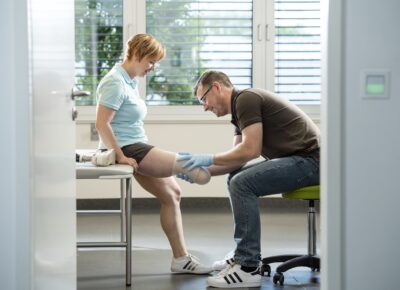 If your prosthetic doesn't fit properly, you're not going to be happy. It's that simple. Your new socket has to fit without rubbing, chafing or pinching. An ill-fitting socket is not only uncomfortable and often painful, it will require repeated return trips to correct the problem.
Komfort & Kare will make you a custom prosthetic for an ideal, comfortable fit, wherever you are in South Jersey or greater Philadelphia. We'll review your doctor's prescription and your day-to-day goals. Whether you stand or walk freely, or spend time on the golf course, we can design the ideal solution for your comfort and independence.
We provide upper and lower extremity prosthetics for all amputation levels, including myoelectric and microprocessor controlled joint systems. We pay special attention to the fitting technique and our in-house prosthetic socket fabrication.
Once your prosthesis is fit, we'll conduct a comprehensive evaluation to ensure that it's as comfortable as possible. If it's not ideal, our lab technicians can fix it on the spot.
We provide:
Upper Extremity Prosthetics: All amputation levels: conventional, myoelectric, bionic and proportional control systems.
Lower Extremity Prosthetics: All amputation levels: partial foot, microprocessor controlled knee and ankle joints, knee and ankle joint systems and elevated vacuum systems.
We will work with you and your insurance provider to provide the best overall prosthetic solution for you. Best of all, we do all of our prosthetic fabrication in-house, and we'll have your prosthesis ready in days instead of weeks.
Reach out to us today for a prosthetic solution that provides maximum function and comfort.