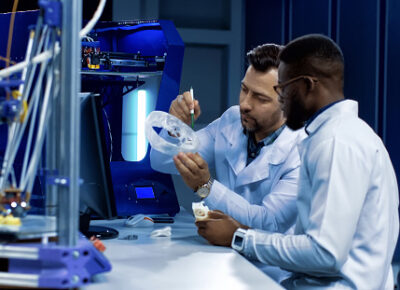 At Komfort & Kare, we know you need a comfortable prosthesis that is designed to suit your mobility and functional needs…and we know you don't want to or can't wait long. That's why we've built our own in-house prosthetics fabrication lab here in our new South Jersey facility. Our laboratory enables us to fabricate devices in as little as three to five days after we receive authorization.
Our laboratory consists of several technicians, an infrared oven, sewing machines, sanders and much more. With our ability to construct 100% of our own prosthetics, we have the ability to custom fabricate your prosthesis quickly, with a high measure of quality control. We use state of the art components from most all the reputable manufacturers in this industry, including patented microprocessor and myoelectric equipment.
Our prosthetic technicians all have many years of experience in this industry, and they love what they do. They create molds from scratch every day that ideally suit our patients' comfort levels and needs. Our patients and their doctors are always satisfied with the outcomes and the timely services.
Komfort & Kare can create prosthetics and artificial limbs for every level of amputation, using the latest in componentry and design. Reach out to us today to schedule your fitting appointment, or come visit our state of the art facility here in Magnolia.
We have locations in: Philadelphia, South Jersey, New Jersey, Philadelphia Suburbs, Chester County, Camden County, Burlington County and Gloucester County