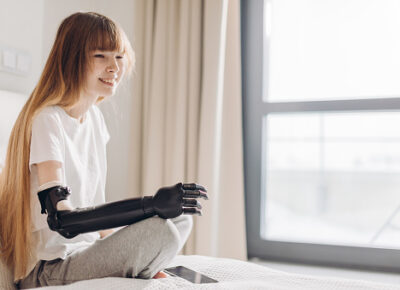 Komfort & Kare is dedicated to serving your prosthetic needs, wherever you may be in South Jersey or the greater Philadelphia area. We believe in providing quality products with a superb customer experience.
Education is important to prosthetic providers, but so is actual experience. It isn't just the textbook learning from a university. Prosthetics and artificial limbs require a solid understanding of anatomy and physiology. A clinician should be looking at every detail about the patient to determine the best outcome, so the patient is completely comfortable and isn't dealing with soreness or pain and return trips to the office.
The clinicians and technicians at Komfort & Kare all have many years of experience in the industry. We understand that patients not only need a well-constructed prosthesis, they need it to fit properly and work well with their daily activities. We also understand that patients don't want to wait weeks for their prosthesis, and that there won't be any struggles with their insurance provider.
We provide prosthetics for both upper and lower extremities, at all amputation levels. We discuss your daily routines to determine your ideal needs. We then can deliver a properly fitting prosthesis quickly, and adjust it as needed in our office.
If you live in South Jersey or the Philadelphia area, and are seeking a prosthesis, reach out to us today to schedule an appointment. We look forward to improving your comfort and mobility, and helping you live an independent life again.