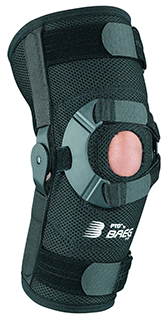 Should you require a foot or knee orthotic as approved by your doctor, Komfort & Kare can fit you with a comfortable and functional brace. We provide foot, ankle, and knee braces for any variety of conditions, including sports injuries, osteoarthritis, nerve damage, and multiple sclerosis and cerebral palsy-related disorders. We offer a wide selection of off-the-shelf products, or we can custom make a device that is ideal for your injury and day-to-day activities.
Whether you're correcting a temporary injury or require a brace for life, the proper orthotic fit is essential to your mobility and healing. A knee injury particularly can be caused in many ways, and it's important to properly diagnose the problem. Your treatment plan and the length of time to wear the brace are factors too.
The orthotists at Komfort & Kare all have many years of experience in orthotics, including working with many of the professional athletes in the area. We have treated all types of patients, and when a patient requires an orthotic device, we can produce the ideal product from our in-house lab within days of measurement. We'll discuss your condition and needs, and we'll work with your doctor and insurance provider to find the best solution for your healing, mobility and lifestyle.
Reach out to us today for an appointment in our new Magnolia, NJ facility. Let us help you stay active and prevent future injuries.