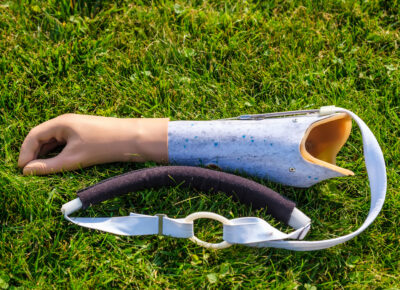 Komfort & Kare is your dedicated destination for a suburban Philadelphia custom prosthetics lab. Our newly constructed, state of the art lab is located in Magnolia, NJ, just minutes away from the city and convenient to South Jersey residents, and we serve patients from several locations in the region. We can provide you with a prosthesis for amputation at any level, for both upper and lower extremities, and we customize your fit for maximum comfort.
Our prosthetics are made from top of the line materials from reliable manufacturers, and we offer advanced prosthetics that include patented microprocessor and myoelectric equipment.
Your Suburban Philadelphia Custom Prosthetics Professionals
Whether you want to be able to stand or walk without difficulty or if you want to lead a more active lifestyle, Komfort & Kare can design the ideal solution. We know you aren't going to be happy with an ill-fitting prosthetic that causes rubbing or pinching. It's uncomfortable, painful and limiting.
We take the time to review your doctor's prescription and talk with you about your day-to-day activities, and we'll design your prosthetic for a comfortable fit the first time. Komfort & Kare pays special attention to the fitting technique and to proper socket fabrication. If you're not satisfied during our comprehensive evaluation, our lab technicians can fix your prosthesis on the spot, eliminating return trips to our office.
Our in-house custom prosthetics include:
Upper Extremities: We design conventional, myoelectric, bionic and proportional control systems, for any amputation level.
Lower Extremities: We provide partial foot, microprocessor controlled knee and ankle joint prosthetics, elevated vacuum systems and more, for any amputation level.
With our in-house fabrication service in our custom prosthetics design lab, we can make your prosthetic available in days after authorization, rather than weeks. We accept most all major insurances, and our staff will work with your provider to keep your out of pocket costs as low as possible.
Let Komfort & Kare and our convenient locations be your choice for a suburban Philadelphia custom prosthetics lab. Reach out to us today to schedule your appointment, and get started with a more comfortable and less limiting future.