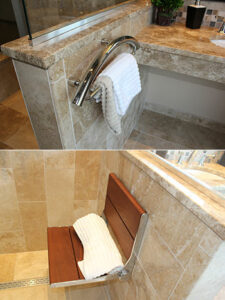 With hundreds of thousands of hospitalizations due to bathroom-related injuries each year, it's important for you or your loved one to stay safe. In our facility in Magnolia, we offer a wide variety of products that increase your safety when using your bathtub, shower, or toilet.
Our bath safety products include:
Bariatric bath benches. Make showering and bathing safer with a non-slip, water-resistant bath bench.
Bath transfer benches. Allow for easier entrance/exit from the tub with a comfortable bench to sit on.
Commodes. Various bathroom furniture constructed for increased safety.
Grab bars. Allow for holding on while climbing in or out of the bath or moving around within the bath.
Hand-held showers. Reduce the chance of falls with an easy to use and mobile shower head.
Raised toilet seats. Enables easier toilet usage for those with limited mobility.
Rolling shower chairs. Enables a patient to be rolled into a shower while seated.
Shower/bath chairs. Shower and bath chairs for people with limited mobility, making bathing much easier and safer.
Bathtubs. Eliminates the challenge and potential injury from stepping over a bathtub wall.
Toilet safety frames. Allows the user of the toilet to grab hold and stabilize oneself, reducing risk of injuries.
These products and more are available in our showroom, and our professional experts can meet with you to discuss the right product for your bathroom safety needs. Reach out to us today or visit our facility in Magnolia and see our wide selection of products.